AHGW:Create XS2D Panel Divider
From XMS Wiki
Jump to navigation
Jump to search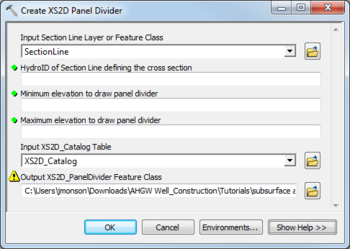 The Create XS2D Panel Divider tool is accessed by double-clicking on "

Create XS2D Panel Divider" under the "

XS2D Editor" toolset under the "

Subsurface Analyst" toolset under the "

Arc Hydro Groundwater Tools" toolbox. This tool creates and populates a feature class to store 2D cross section panel dividers. These vertical lines show vertex locations from the section line defining the cross section transect.
The following fields are available. Required fields are marked with a

icon. Fields marked with a

icon may either not be supported or the table doesn't exist.