SMS:STWAVE Menu 12.3 and earlier
From XMS Wiki
Jump to navigation
Jump to search
This contains information about features no longer in use for the current release of SMS.
The content may not apply to current versions.
The items in the STWAVE menu in the Cartesian Grid Module are described below:
STWAVE Menu Commands
The STWAVE menu has the following commands:
Assign Cell Attributes – Opens the STWAVE Cell Attributes dialog.
Generate Nesting Points – Opens the Nesting dialog.
Model Check – Starts the SMS model checker.
Model Control – Opens the STWAVE Model Control dialog.
Run STWAVE – Launches the finite element analysis engine.
Obsolete Menu Commands
The following commands are no longer available in current versions of SMS.
Assign Cell Attributes Command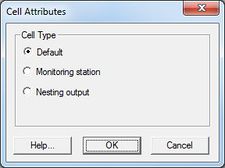 The STWAVE Cell Attributes dialog is used to assign a cell type to selected Cells. It is opened using the menu command STWAVE | Assign Cell Attributes. The following cell types can be assigned:
Default
Cells are no longer assigned as Land or Ocean types but are assigned as Default where their elevation values are used to simulate whether flow exists or not. If no elevation data is available for part of the grid area, it is important to specify an extrapolation value of a negative number. Extrapolation values can be specified in the Interpolation dialog while doing Map → 2D Grid.
Monitoring Station
Spectral output is generated for cells designated as monitoring station cells.
Nesting output
Spectral output is generated for nesting output cells cells to be used as input for a nested child grid.
Displaying Cell Attributes
The symbols and colors used to identify the attributes assigned to cells can be changed in the STWAVE Display Options.
Run STWAVE Command
After a simulation has been read or saved, SMS can launch the finite element analysis engine. To run STWAVE:
Select STWAVE | Run STWAVE. A dialog appears showing the engine that will execute.
If the executable program is the wrong version, or if given the message that it was not found, then click the file browser icon and choose the correct version of the program that should run.
Click the OK button or press the ENTER key.
A window will appear which displays various information as STWAVE runs. Normally it is not necessary to type anything in this window. If the window prompts for file names, an updated version of the STWAVE model executable is needed. When STWAVE has finished, a prompt will ask to press the ENTER key. If the window goes away before doing this, STWAVE encountered a problem and crashed.
Related Topics