SMS
:
Exporting Profile Dialog
From XMS Wiki
Jump to navigation
Jump to search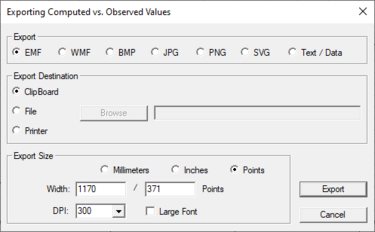 The Exporting Profile dialog allows exporting the plot data. The dialog is reached through the Export/Print command when right-clicking on an active plot.
Export
Image Export – This option selects the image format the plot data will be exported as. The following image formats are available:

EMF – Windows enhanced metafile.
WMF – Windows metafile.
BMP – Bitmap image file format.
JPG – Joint photographic experts group file format.
PNG – Portable network graphics file format.

Text / Data – This option will export the data as a simple text file.
Export Destination
In this section, select where SMS will send the plot data when exporting.
ClipBoard – Sends the plot data to the clipboard memory of the computer.
File – Creates an ASCII text file of the data. Selecting the Browse button allows specifying the location where the file will be saved.
Printer – Exports the data to an active printer.
Export Size
If exporting to an image format, allows the image size and resolution to be specified. This sections contains the following sections:
Millimeters
Inches
Points
Width
DPI
Large Font
Default values will be entered in these fields based on the generated plot. These values can be changed if desired.
Related Topics