SMS
:
GenCade Refine Point
From XMS Wiki
Jump to navigation
Jump to search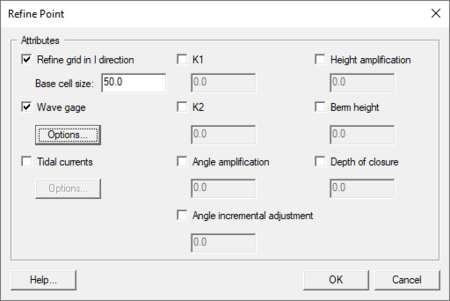 The Refine Point dialog is used to set the attributes for a refine point represented by a feature point in a GenCade model coverage. The dialog is reached by selecting a point in a GenCade coverage and selecting the Feature Objects | Attributes command.
Attributes that can be specified for each refine point include:
Refine grid in I direction – Has the following option when turn on:

Base cell size – Specify the cell I size in the vicinity of the refine point.

Wave gage – Applies wave gage settings to the refined point. Selecting the Options button will bring up the Wage Gages dialog.
Tidal currents – Applies tidal current data to the rifined point. Selecting the Options button will bring up the Tidal Currents dialog.
K1 – Regulates the magnitude of the longshore transport and should be calibrated first.
K2 – Influence the shoreline position in the vicinity of structures or where there is a sharp change in shoreline orientation.
Angle amplification
Angle incremental adjustment
Height amplification
Berm height
Depth of closure
Only refine points located within a grid frame are used when the Map → 1D Grid command is executed. Refine points are not available for all models, since some Cartesian grid models require uniform cell sizes.
Related Topics