SMS
:
Nodal Transition (Marsh Porosity) Dialog
From XMS Wiki
Jump to navigation
Jump to search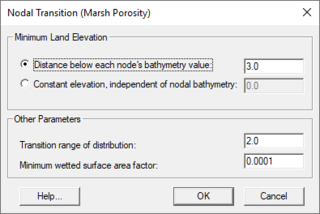 The RMA2 Nodal Transition (Marsh Porosity) dialog is used to define the RD Card: Automatic Roughness Coefficient Assignment by Depth. See the section "Wetting and Drying", "Elemental Elimination", "Marsh Porosity", and DA and DM card descriptions in the RMA2 model documentation for more information. This dialog is reached through the Global Methods tab of the RMA2 Model Control dialog.
Options in the dialog apply to the entire mesh. The following parameters can be set in the Nodal Transition (Marsh Porosity) dialog:
Minimum Land Elevation – The options in this section adjust the land elevation to prevent the mesh from going dry. It has the following options:

Distance below each node's bathymetry value – Will override the land elevation if the distance between the elevation and the nodal bathymetry is less than the set value. Default is 3.0.
Constant elevation, independent of nodal bathymetry – Set slightly lower than the minimum expected water elevation for the simulation.

Other Parameters – The follow values can be set:

Transition range of distribution – Default is 2.0.
Minimum wetted surface area factor – Default is 0.001.
Related Topics