SMS
:
Time Steps Window
From XMS Wiki
Jump to navigation
Jump to search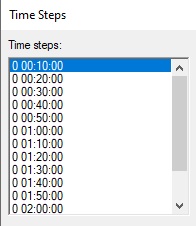 The Time Steps window is used to select a time step to be active and is only visible if a transient dataset has been loaded into the project.
The Time Steps window is located below the Project Explorer by default, but it can be moved to anywhere on the window since it is a "dockable" toolbar. The Time Steps window can be resized by clicking on the window borders and dragging them. The Time Steps window only appears when a transient dataset is selected in the Project Explorer.
The display of time values in the Time Steps window is controlled by the settings in the Time Settings and Preferences dialogs.
Time Steps Right-Click Menu
Right-clicking on the Time Steps window will give bring up the following commands:
Related Topics