SMS
:
MapInfo MID/MIF
From XMS Wiki
Jump to navigation
Jump to search
MapInfo Interchange Format (MIF) is a map and database exporting file format of MapInfo software product. The MIF file filename usually ends with .mif-suffix. Some MIF files also have a related MID file.
Export
To export maps in MIF/MID format:
Load or create an existing map
Select File | Save As
Select Save as type: and choose "Catalog file (*.xml)"
An XML file is created which outlines the directories of the MIF/MID files. A points.mif/mid, polygons.mif/mid and polylines.mif/mid (if exists) is also created.
Import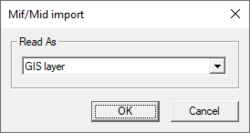 Using the File | Open menu command, open the saved XML file to import the mesh from a MIF/MID file.
After selecting a MIF/MID file, the MIF/MID Import dialog may appear. Users have the option to import the MIF/MID file to one of the following coverage types:
GIS Layer
TUFLOW 2D/2D Linkage
TUFLOW 2D Z Lines/Polygons (simple)
TUFLOW Area Property
TUFLOW Boundary Condition (flow over area)
TUFLOW Boundary Condition (rainfall)
TUFLOW Codes
TUFLOW Flow Constriction (cell based)
TUFLOW From Loss Coefficient
TUFLOW Initial Water Level
TUFLOW Storage Reduction Factor
TUFLOW Water Level Lines
TUFLOW Water Level Points
TUFLOW Weir Factor
MIF/MID files can also be imported using the Add MIF/MID File Data command in the Data menu of the GIS module.
Related Topics
External Links