SMS
:
Steering
From XMS Wiki
Jump to navigation
Jump to search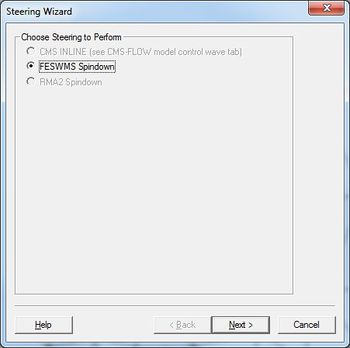 The steering tool has been added to facilitate the process of launching models multiple times. To launch the steering tool, choose the menu command Data | Steering Module.
The steering tool can be used for single model (spin down) simulations of RMA2 and FESWMS.
In SMS version 12.0 and earlier the steering tool can also be used to facilitate the transfer of data from wave models to circulation models and back. Currently, CMS-Flow / CMS-Wave links is supported. In versions 12.1 and later, the CMS-Flow Model Control is used for steering.
Related Topics
NOTE: CMS-Flow (formerly known as M2D) and CMS-Wave (formerly known as WABED) are components of the Coastal Modeling System (CMS).
External Links
Jun 2002 ERDC/CHL CHETN-IV-41 SMS Steering Module for Coupling Waves and Currents, 1: ADCIRC and STWAVE [1]
Jun 2002 ERDC/CHL CHETN-IV-42 Coupling of Regional and Local Circulation Models ADCIRC and M2D (now know as CMS-Flow) [2]
Dec 2003 ERDC/CHL CHETN-IV-60 SMS Steering Module for Coupling Waves and Currents, 2: M2D (now know as CMS-Flow) and STWAVE [3]