AHGW:Assign HydroID GW
From XMS Wiki
Jump to navigation
Jump to search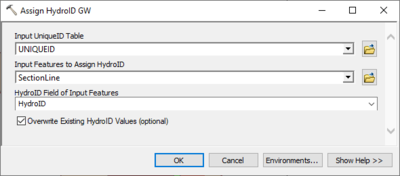 The Assign HydroID Table tool is accessed by double-clicking on "

Assign HydroID GW" under the "

Groundwater Analyst" toolset under the "

Arc Hydro Groundwater Tools" toolbox.
The following fields are available. Required fields are marked with a

icon.
Input UniqueID Table – Select from the drop-down the UniqueID table containing the last HydroID value in use.
Input Features to Assign HydroID – Select from the drop-down the feature where this tool will assign the new HydroID values.
HydroID Field of Input Features – Select from the drop-down the field on the features containing the HydroID values. "HydroID" is normally selected here, but another field can also be used, based on your data model.
Overwrite Existing HydroID Values – Optional field. This determines whether or not features with existing HydroID values will have a new HydroID assigned, or whether the current value will remain unchanged.

Turn this on to assign a new HydroID value, even if they already have a HydroID value.
Turn this off to only assign a HydroID to features that do not currently have a HydroID assigned.