AHGW:Create Unique ID Table
From XMS Wiki
Jump to navigation
Jump to search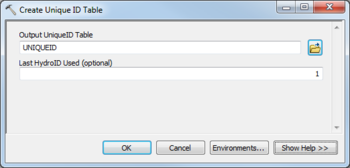 The Create Unique ID Table tool is accessed by double-clicking on "

Create Unique ID Table" under the "

Groundwater Analyst" toolset under the "

Arc Hydro Groundwater Tools" toolbox.
The following fields are available.
Output UniqueID Table – Click the button to bring up the Output UniqueID Table dialog in order to specify the name of the UniqueID table to create.
Last HydroID Used – The last HydroID value to assign to the UniqueID table. New HydroID values created using the Assign HydroID GW tool will be added sequentially after this value.