SMS:SMS
From XMS Wiki
Jump to navigation
Jump to search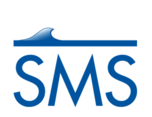 The Surface-water Modeling System (SMS)
The Surface-water Modeling System (SMS) is a graphical user interface and analysis tool that allows engineers and scientists to visualize, manipulate, analyze and understand numerical data and associated measurements. Many of the tools in SMS are generic, and they are designed to facilitate the establishment and operation of numerical models of rivers, coasts, inlets, bays, estuaries, and lakes.
What's New
SMS 10.1 has been released with exciting new features as well as a lot of improvements for existing features.
Intermediate release Bugfixes 10.1 or for older versions Bugfixes.
Introduction to SMS
The Highlights provides a summary of SMS capabilities.

The SMS Tutorials are step by step guides for building models and using SMS features. They are an excellent place to begin learning how to use SMS.
Much of the SMS functionality is divided into Modules based upon the type of data (grids, meshes, GIS, etc). SMS also contains features that are not tied to specific modules.
SMS supports a number of Numerical Models with a variety of uses including hydraulics, wave modeling, and particle tracking.
See Layout of the Graphical Interface for more information on the organization of the toolbars, menus, and windows in SMS.
A list of Publications and Reports produced using SMS.
Federal Highways Administration (FHWA) and Aquaveo have partnered to present FHWA Webinars about using SMS and WMS.
Installation
Support