AHGW:Export Package ETS
From XMS Wiki
Jump to navigation
Jump to search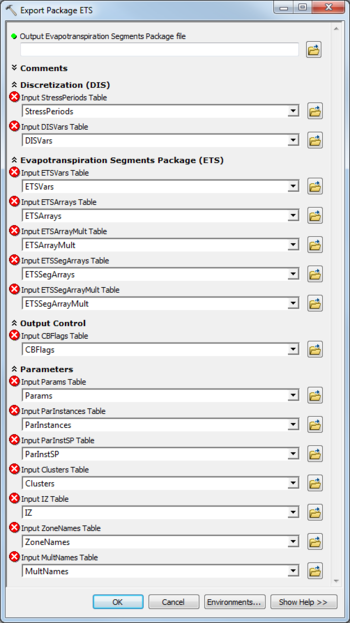 The Export Package ETS tool is accessed by double-clicking on "

Export Package ETS" under the "

Export" toolset under the "

MODFLOW Analyst" toolset under the "

Arc Hydro Groundwater Tools" toolbox.
The following fields are available. Required fields are marked with a

icon. Fields marked with a

icon may either not be supported or the table doesn't exist.
Comments
Discretization (DIS)
Input StressPeriods Table – Click the button to bring up the Input StressPeriods Table dialog in order to specify the StressPeriods table, in MODFLOW Data Model format. The StressPeriods table stores information on stress periods and time steps.
Evapostranspiration Segments Package (ETS)
Output Control
Parameters