AHGW:HydroID Manager
From XMS Wiki
Jump to navigation
Jump to search
This contains information about features no longer in use for the current release of AHGW.
The content may only apply to older versions.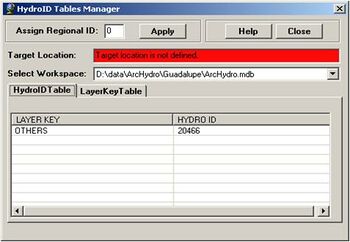 The HydroID is a key attribute in the Arc Hydro geodatabase used for feature identification and establishment of relationship in the geodatabase. Every feature an Arc Hydro geodatabase is given a HydroID which becomes its unique identifier (HydroID differs from OBJECTID as HydroID is unique across all the classes in the geodatabase while OBJECTID uniquely identify features/rows in a single table/feature class)
The HydroID manager helps managing HydroIDs within a geodatabase.