GMS
:
Materials
From XMS Wiki
Jump to navigation
Jump to search
Many of the objects in GMS (ex., elements, solids, borehole regions) have an associated material. Materials typically represent a type of soil or rock. A global list of materials is maintained and can be edited using the Materials command in the Edit menu.
Materials Dialog

The Materials are listed in a spreadsheet. Materials have an ID, name, color and pattern. New materials can be created by typing in the last row, or by copying and pasting from a spreadsheet, or by selecting the Insert button. The dialog also has tabs showing model specific properties for each numerical model in use.
Materials Display Options
Material pattern scale – Adjusts the scale for the material pattern display making it more or less detailed. This setting only has a noticeable effect when a material is represented with a pattern. These patterns are set up in the Materials dialog using the button in the Color/Pattern column.
Display material legend – Displays a legend in the Graphics Window showing all the materials.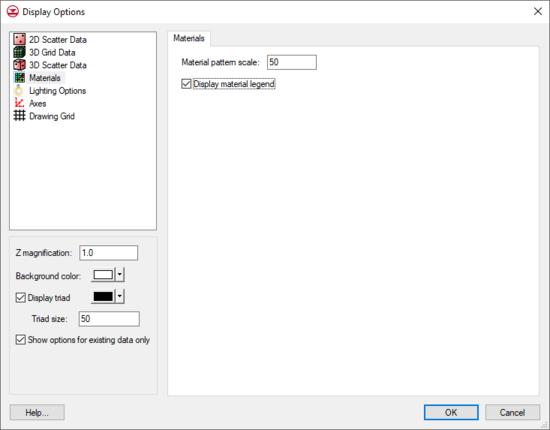 Materials File
The material names, colors, patterns, and transparencies can be exported by selecting the Export button. This will save out a "material" file with a *.mat extension. This file can be imported into GMS using the File | Open command.
Related Topics