GMS:SEAM3D Reductive Dechlorination Package
From XMS Wiki
The Reductive Dechlorination Package is an optional package in the SEAM3D model that can be used to account for the degradation of chlorinated organic compounds by chemical reduction with release of inorganic chloride ions. The dialog is reached through the SEAM3D | Reductive Dechlorination Package command.
Concentations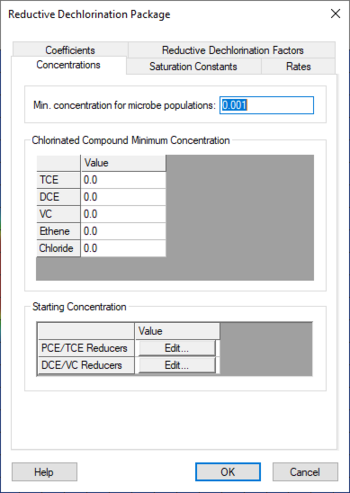 Minimum concentration for microbe populations
Chlorinated Compound Minimum Concentration
Starting Concentration
Saturation Constants
This tab allows setting Half Saturation Constant for Reductive Dechlorination and Half Saturation Constant for Direct Oxidation values.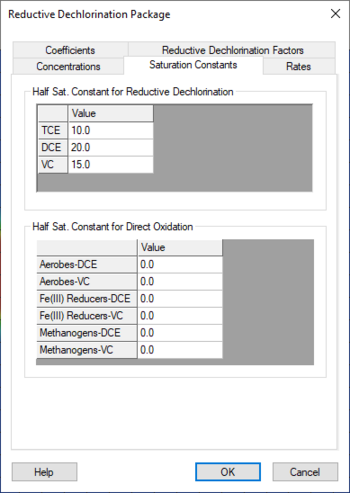 Rates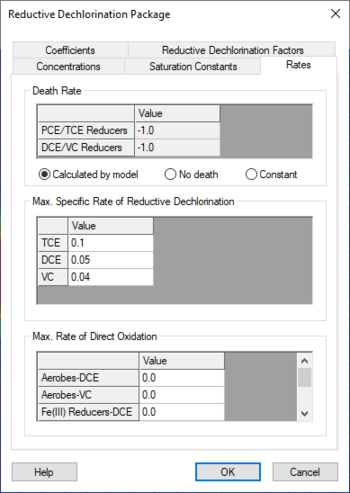 Death Rate

Calculated by model
No death
Constant

Maximum Specific Rate of Reductive Dechlorination
Maximum Rate of Direct Oxidation
Coefficients
This tab allows setting Yield Coefficients, Use Coefficient, and Methane Generation Coefficient values.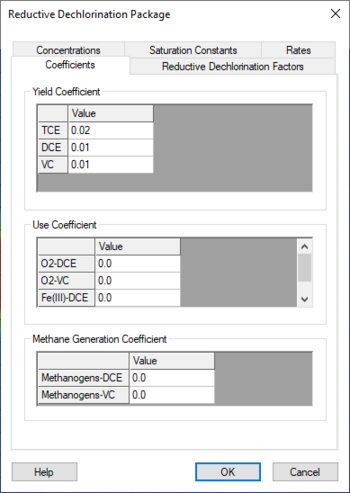 Reductive Dechlorination Factors
This tab allows setting values for Chlorinated Ethene Inhibition Terms and Chlorinated Ethene Stoichiometric Factors.