GMS:SEAWAT Global Options Dialog
From XMS Wiki
Jump to navigation
Jump to search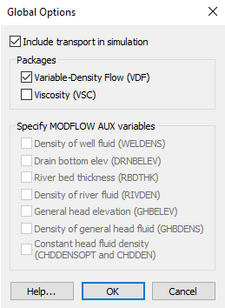 The Global Options dialog is used to setup a new SEAWAT model or to edit the current options for an existing model. To set up a new SEAWAT model select Edit | Model Interfaces... menu command and turn on the SEAWAT model interface. Next select SEAWAT | New menu item to create the SEAWAT model.
In the Global Options dialog, options are provided to modify the use of transport in the simulation, to turn on and off the Variable-Density Flow (VDF) and Viscosity (VSC) packages, and to enable or disable the SEAWAT MODFLOW AUX variables used by SEAWAT.
The Variable-Density Flow package will use the MODFLOW methodology to solve the variable-density ground-water flow equation. The Viscosity package will include the effects of fluid viscosity on the internodal conductance terms.
The MODFLOW AUX variables include:
WELDENS – Density of well fluid (WEL package).
DRNBELEV – Drain bottom elevation (DRN package).
RBDTHK – River bed thickness (RIV package).
RIVDEN – Density of river fluid (RIV package).
GHBELEV – General head elevation (GHB package).
GHBDENS – Density of general head fluid (GHB package).
CHDDENSOPT and CHDDEN – Constant head fluid density (CHD package).
These AUX variables can be edited in the associated MODFLOW Package dialog or in the MODFLOW Sources/Sinks dialog.