AHGW:Converting 2D Cross Sections to 3D Using Subsurface Analyst
From XMS Wiki
Jump to navigation
Jump to search
This workflow supports creating 3D GeoSection features (that can be visualized in ArcScene) from 2D cross sections stored as polygons. The workflow is useful when we already have 2D cross sections created as polygons (not using Subsurface Analyst tools) and we want to load the data into the appropriate format and apply Subsurface Analyst tools to generate 3D features.
Set Up a Geodatabase and Map
Create the section line feature class and load section lines
The SectionLine feature class should look similar to this:
Create XS2D_Panel features from the existing polygons
The following steps should be repeated for each of the cross sections:

At the end of this process you should have a set of XS2D_Panel feature classes, and a single SectionLine feature class (ignore for now the GeoSection feature class, it is added later). They should appear similar to this:
While creating feature classes with the Subsurface analyst tools the XS2D_Catalog table is also updated. Your XS2D_Catalog should appear similar to this:
Create 3D GeoSection features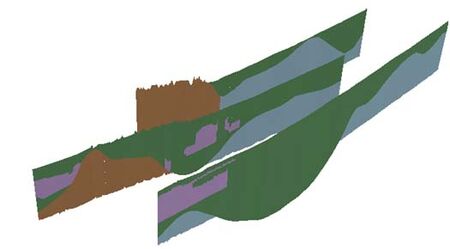 You can do this part in ArcScene to better visualize the 3D features created.
This should give a nice view of the cross sections in 3D (see image, right). You can symbolize them by the HGUCode.