WMS:HEC-1 Parameters
From XMS Wiki
Jump to navigation
Jump to search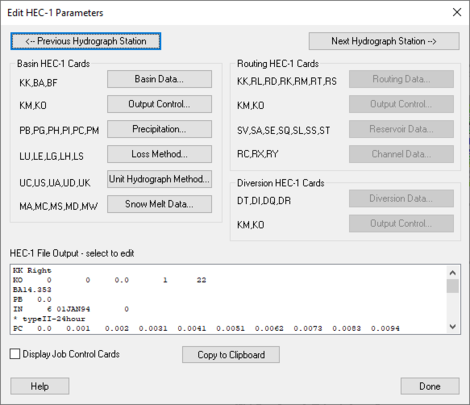 Attributes or parameters for all HEC-1 hydrograph stations are defined and/or later edited using the Edit HEC-1 Parameters dialog. This dialog is accessed by selecting the Edit HEC-1 Parameters command from the HEC-1 menu or by double-clicking on basin, outlet, or diversion icon from the Graphics Window.
If a basin, outlet, or diversion is selected before issuing the command then data for that object appears in the text window at the bottom of the dialog. The top portion of the dialog lists the HEC-1 cards that can be edited by selecting the corresponding button. When a hydrograph station is selected (basins/outlets/diversions) only the buttons that edit parameters associated with that hydrograph station are active, all others are dimmed. In addition to using the appropriate button, HEC-1 attributes can be edited by clicking on the HEC-1 card in the text display window. Using this method, job control parameters can be edited by first toggling their display using the Display Job Control Cards toggle box, and then selecting a job control card from the text display window.
Once the dialog appears it becomes part of the main screen until the Done button is selected. Therefore, it is possible to select additional, or other hydrograph stations so that data for that object may be edited without exiting the dialog. Use the previous and next hydrograph station buttons to cycle through hydrograph stations in the order they are computed by HEC-1. Since the dialog is part of the main screen, all menu commands are active while this dialog is present.
Related Topics