WMS:Map Module
From XMS Wiki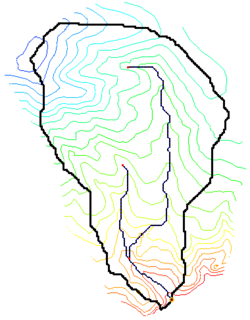 The Map module provides a suite of tools for defining watershed data in a GIS and then using the information to directly create and manage hydrologic and hydraulic models, or as a support utility for data development with either TINs or DEMs. Results of watershed and floodplain delineations can also be saved in the map module and converted to GIS data layers for export.
Land Use and Soil type layers can be created using feature objects in the Map module and then used to compute curve numbers or map other important modeling parameters. Other layers are also used for computing time of concentration or lag time, cutting cross sections, mapping NFF regions, mapping rainfall and other parameters for the LA County modified rational (MODRAT) model, and streams for 2D analysis using GSSHA.
A rough boundary and stream network can also be used to generate a TIN or two-dimensional finite difference grid that conforms precisely to streams and other important hydrologic features. Feature objects can also be used to create polygonal boundaries of soil type or land use to aid in the computation of curve numbers for hydrologic analysis.
Images can be used to provide a background display of a region, or draped over a TIN or grid as a texture map. They can be imported from TIFF files or created from within WMS by capturing the screen.
Within the Map module there are several other tools which can be helpful in either setting up models or presentation of results to a client. Tools for reading and writing of CAD files, and text annotation are part of this module.
The Map module is included with all editions of WMS.
Related Topics