WMS:NSS Region Coverage
From XMS Wiki
Jump to navigation
Jump to search
An NSS Region coverage can be generated so that regions can automatically be mapped to a drainage coverage when performing hydrologic analysis using the NSS regression equations. Individual state maps can be found at the USGS website: http://water.usgs.gov/software/NSS/ (Look at the bottom of the page and select the state).
If wanting to digitize the state:
Download the image from the USGS website and save the picture as either a *.tif or *.jpg image (many times the default will be a *.gif image) using any type of imaging software program.
Load the *.tif, or *.jpg image into WMS and register according to the latitude and longitude coordinates found on the map.
Then convert the coordinates to the coordinate system that will be used in delineating the watershed in.
With the image in the background, digitize the lines and build the polygons of the coverage.
Finally assign the attributes (state and region) to the polygons and save it as a map file.
This NSS coverage file can then be used for any watershed within the given state.
NSS Region Polygon Attributes Dialog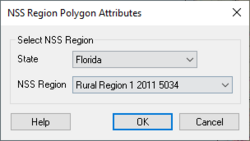 Selecting a polygon in the NSS Region coverage and the using the Feature Objects | Attributes command will bring up the NSS Region Polygon Attributes dialog. The dialog allows assigning the following:
State – Provides a list of U.S. States.
NSS Region – Provides a list of available regions based on the state selected above.
For more information on the data available in each NSS region, see the NSS regional documentation.
Related Topics