GMS:MODFLOW-2005
From XMS Wiki
Jump to navigation
Jump to search
Starting at GMS version 8.0, GMS supports MODFLOW 2005.
Choosing MODFLOW-2000 or MODFLOW-2005
Choosing to use MODFLOW-2000 or MODFLOW-2005 is done in the MODFLOW Global/Basic Package dialog. Switch from one to the other at any time.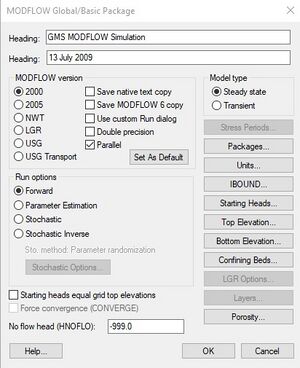 Changes in MODFLOW-2005
The following list shows changes in MODFLOW-2005 from MODFLOW-2000.
1. SOR1 Solver

MODFLOW-2005 no longer supports the SOR1 Solver.
2. PCG2 Solver

MODFLOW-2005 replaces the DAMP variable with DAMPPCG and DAMPPCGT variables [1]. These two new variables allow different damping factors to be applied separately to steady-state and transient stress periods.
3. UZF Package
4. LPF package

MODFLOW-2005 provides more options for the LPF Package. Pictures below show the LPF package options supported in MODFLOW-2000 vs MODFLOW-2005.
5. PES and PEST

PES is not available in MODFLOW 2005. Automated calibration in GMS is handled using PEST.
MODFLOW 2005 Files
Below are tables of some of the available input and output files for MODFLOW 2005. Note: MODFLOW will produce the LMT and HFF files even if transport is turned off.
For more information on these files see the manual.
Required Input Files

| Name | Description |
| --- | --- |
| MFN | MODFLOW Name File |
| GLO | Global Listing File |
| DIS | Discretization File |
| OC | Process Output Control Option File |
| BA6 | Basic Package Global Options File |
Solver Package File

| Name | Description |
| --- | --- |
| DE4 | Direct |
| GMG | Geometric Multi-Grid |
| PCG | Preconditioned Conjugate-Gradient |
| SIP | Strongly Implicit Procedure |
| SOR | Slice-Successive Overrelaxation |
Input Flow Package Files

| Name | Description |
| --- | --- |
| BCF | Evapotranspiration Segments |
| HUF | Evapotranspiration |
| LPF | Layer Property Flow |
| UPW | Unsaturated-Zone Flow |
Optional Package Files

| Name | Description |
| --- | --- |
| ASP | PEST Advanced Spacial Parameterization |
| CHD | Time-Variant Specified-Head |
| DRN | Drain |
| DRT | Drain Return |
| EVT | Evapotranspiration |
| ETS | Evapotranspiration Segments |
| GAG | Gage |
| GHB | General Head Boundary |
| HFB | Horizontal Flow Barrier |
| LAK | Lake |
| PARAM | PEST Parameter Variables |
| RCH | Recharge |
| RIV | River |
| SFR | Streamflow-Routing |
| STR | Stream-Routing |
| SUB | Subsidence |
| SWI | Seawater Intrusion |
| UZF | Unsaturated-Zone Flow |
| WEL | Process Well |
Observation Input Files

| Name | Description |
| --- | --- |
| OBS | Main Observation Process Input |
| DROB | Drain Observation |
| CHOB | Constant-Head Flow Observation Input |
Output Files

| Name | Description |
| --- | --- |
| MFS | MODFLOW Super File |
| MFW | GMS MODFLOW World File |
| MFR | GMS MODFLOW Result Index File |
| PRJ | Projection |
| CSV | Cell Summary Comma Separated Value Excel |
| HFF | Head and Flow File Link to MT3DMS |
| H5 | Hierarchal Data Format (HDF5) Array & List Data |
| LMT | Link Modular Transport (MT3DMS) |
| M2P | MODFLOW Pest |
| PARAM | Parameter Information |
| P00 | Error File |
Output Results Files

| Name | Description |
| --- | --- |
| CCF | Cell-to-Cell Aquifer Flow |
| CCF2 | Cell-to-Cell Stream Reach Outflow |
| DRW | Drawdown |
| GLO | Global Listing |
| HED | Head Output |
| OUT | Output |
Output Package Files

| Name | Description |
| --- | --- |
| MNW | Multi-Node Well |
| MNW2 | Multi-Node Well Version 2 |
| MNWI | Multi-Node Well Information |
| SWIBUD | Seawater Intrusion Package Budget |
| SWIZETA | Sewater Intrusion Package Zeta Surface |
Output Data Exchange Files

| Name | Description |
| --- | --- |
| _W | Weighted Residuals |
| _WW | Weighted Equivalents & Weighted Observation |
| _WS | Weighted Residuals and Simulated Equivalents |
| _R | Unweighted Residuals |
| _OS | Observed Values and Simulated Equivalents |
| _B | Data Exchange File |
| _NM | Weighted Residuals and Probability Plotting |
External Links